Grim Fate was a game designed for the discipline "Digital Games" of the Master of Multimedia at FEUP. The project consisted of organizing a group of four elements to develop a game demo.
We started by defining the theme of the game, which was "Death". For many western cultures, death is seen as a taboo subject and, consequently, directly interferes with the way we deal with life. The purpose of "Grim Fate" is to show that death is as natural as life and that it is just another process in the cycle of living beings. The player will have to go through several attempts during the game, where the narrative is mixed with his choices and, thus, learn about the importance of death and reflect on our path as human beings.
The big challenge we had with this project was to understand the short time that we would have to implement all the ideas we had. We idealized a game with a dense narrative, with interesting metaphorical, mechanical phases and, therefore, we were very excited about the game. However, the schedule limited us to producing only a small part.
Involvement
Developer
UX Designer
Illustrator
Game Designer
Storyteller
Date
November 2019 - January 2020
External references
Involvement
Developer
UX Designer
Illustrator
Game Designer
Storyteller
Date
November 2019 - January 2020
External references
Character
The character in our game does not have a name. He was chosen, by death, to pass a series of tests and, who knows, to replace his work.
The character was designed to symbolize any person, so some gender characteristics have been suppressed. We chose to represent the character in a blue, almost ethereal way, but that did not convey that message so directly. The intention, with this choice, was to omit, at first, the character's story. We wanted the user not to know that he was a soul and that he was being guided by "Death"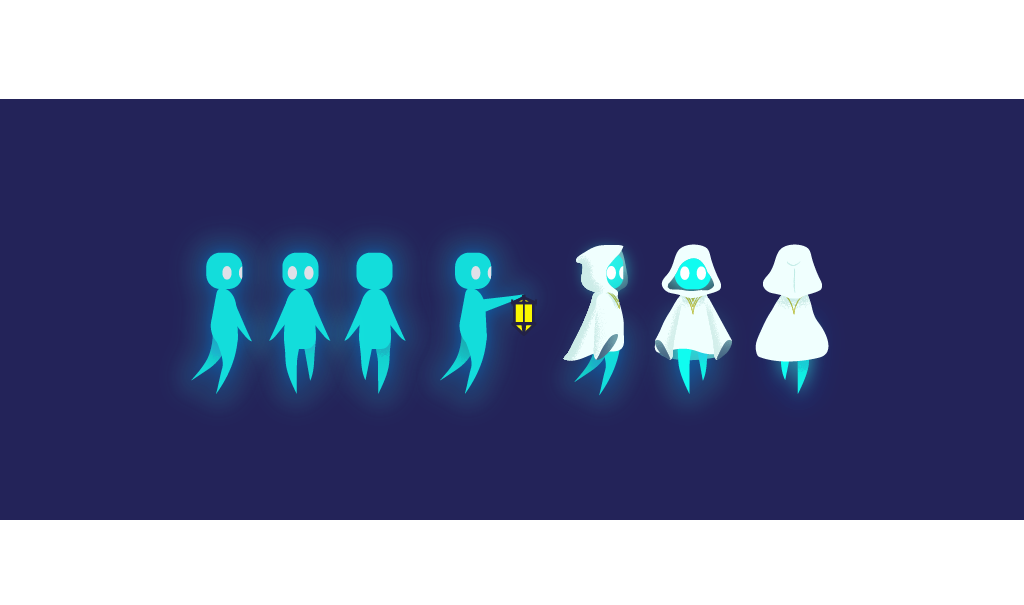 Scenario
We designed scenarios that metaphorically convey the stages of life: The beginning, the cycle of life and death. Before each stage, the character goes through interactive scenarios where an important part of the narrative is presented.
The aesthetics of the scene connects with the metaphor approached from the color palette, level design structure and mechanics.
Multiple endings
The game was designed to have 3 different endings, depending on the player's choices throughout his journey. This feature not only closes the narrative arc in a varied and coherent way, it also allows for an interesting feature such as replayability.
Interface
We designed the interface to play an instructional role in the items collected and skills acquired. We adopted a minimalist aesthetic with the intention of generating little noise on the screen and favoring the user, observation and immersion in the environment.